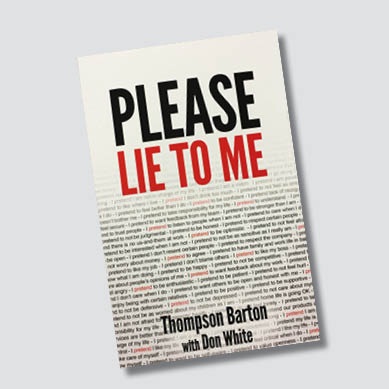 Thomy Bartons nya bok "Please Lie to Me" är här och går att köpa via The Human Element Sweden! Thomy var med nätverksträffen i december, en mycket uppskattad dag med 35 deltagare från flera länder. Så här presenterades boken i inbjudan till nätverksträffen:
"Please lie to me" is our usual agreement. This agreement is informal, unconscious, and non-verbal. It is also self-perpetuating. As a result, we continue to live in fear and mistrust of one another. This infects all relationships unless otherwise agreed to. This is no one's fault but everyone's problem. Like actors in a play, we are all pretending. Unlike actors, we don't know we are pretending. Self-deception is seductive and addicting, but like opioids, offers only temporary relief. Afraid of being real and transparent with one another, by default we are left with a lifetime of strategic lying and withholding. In the deal, we abandon our own authenticity, integrity and self-respect. Tragically, we believe this is necessary.
Om du är intresserad av boken så kan du göra en beställning via e-post. Pris 250 kr inkl. moms och porto.